Hi everyone! Welcome to another challenge at
Kraftin' Kimmie Stamps
...this week our theme is to use KRAFT CARDSTOCK!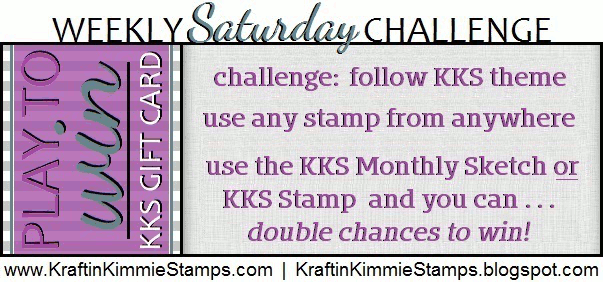 We invite you to play along by submitting your project at the
KKS Blog
. O
ne winner per month will be drawn from all Saturday Challenge entries to win a $20 gift card, and you can enter as many times per month as you'd like!! November 11th at 11:55
pm EST is the deadline.
A few KKS news items:
Several months back, I finally took the dive and purchased a full set of Polychromos coloured pencils. I've actually not had a lot of time to play with them, so this medium is still very new to me. I decided to try using them for our Kraft cardstock challenge this week. I stamped one of the angels from the
Heavenly Holiday
clear stamp set in Memento Desert Sand. She was completely coloured with polychromos. I definitely have a lot to learn, but that's always the case with a new medium. I was actually quite happy with the hair, scarf and skin. I rarely do blond hair with copic as I find yellows challenging...I found it much easier with the pencils! However, I was not thrilled with the dress. I struggled to acheive a smooth blend of shadows. I added several layers, and even blended out with odourless mineral spirits, but was not able to get the depth I wanted. Because I was not happy with my blending, I thought adding some stardust stickles would "fix/hide" the problem. While I like the glitter on her wings, I regret adding it to the dress...definitely should have left it alone! The snowflake flourishes are a memory box die. The sentiment is also from the
Heavenly Holiday
set.
Thanks for visiting!
Blessings,
Melanie